18/03/2021
VENTURA CHOOSES SDR PACK COMPOSTABLE PACKAGING FOR SCORTA VERDE, VOTED PRODUCT OF THE YEAR FOR 2021
---
The increasing awareness of environmental sustainability is prompting the companies that are most aware of and sensitive to the issue to make green choices even when it comes to packaging. This is the case of Ventura, a long-standing company that has set the benchmark in the dried fruit sector, which has chosen our compostable packaging for its Scorta Verde line: four different maxi refills of the finest Xion of dried fruits, wrapped in compostable packaging, certified OK COMPOST INDUSTRIAL by TÜV AUSTRIA, a material that is also suitable for modified atmosphere packaging.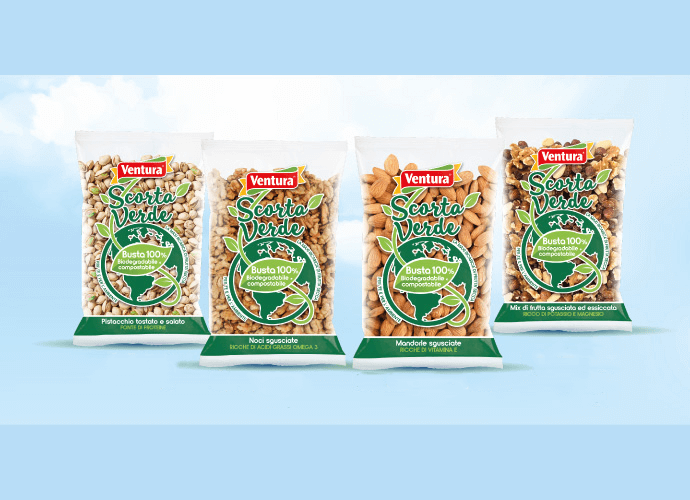 The packaging used for Scorta Verde is a 100% compostable pillow pack made from biopolymers, which, at the end of its life, is designed to be disposed of in domestic organic waste and will then be used for industrial composting. OK COMPOST certified inks are used for the graphic design, which is clean and straightforward for end consumers and complies with the limits set by compostable packaging regulations. The pillow pack used is also sustainable in terms of logistics: it allows for optimised palletisation and minimises environmental impact.
Scorta Verde was voted Product of the Year for 2021 for the dried and desiccated fruit category with special mention for sustainability. A prestigious recognition that rewards the efforts of the Ventura team.
SDR PACK is pleased to work with customers such as Ventura, who are open to innovation and aware of environmental issues. The efforts made and resources invested by our R&D department in designing innovative eco-friendly packaging are being rewarded through customer satisfaction and implemented projects such as Scorta Verde.
---
Top